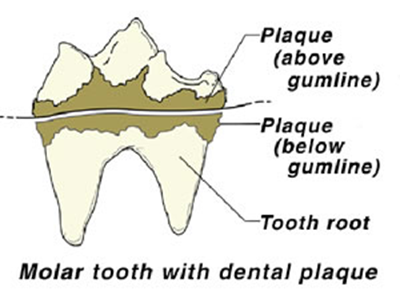 February is National Pet Dental Health Month — so let's talk about keeping your pet's teeth healthy!
This month, the entire veterinary industry is focused on helping you take care of your pet's teeth.
Why is this so important? These 3 important facts may open your eyes about pet dental disease… and help you prevent it in your own beloved best friend.
Over 68% of all dogs and cats over 3 years of age have some form of periodontal or dental disease.
The trick is — your pet may not show obvious symptoms related to dental disease until it becomes a painful, infectious condition that can seriously harm your pet.
Without dental care, tartar and calculus often accumulate on a pet's teeth, followed by infection that can spread deep into the tooth socket, destroying the bone and causing the tooth to loosen and fall out.
But even worse — infectious oral bacteria can be absorbed into the blood stream and carried to other organs… causing deadly infections in the heart valves, kidneys and/or liver.
Yikes! How can I prevent this from happening?
These 5 easy tips can go a long way toward preventing dental disease in your dog or cat.
Brush your pet's teeth every day with toothpaste specifically designed for pets, along with pet-friendly toothbrushes and other teeth-cleaning tools.
Ask your veterinarian about using a special tartar-control diet.
Choose healthy dental treats as rewards and special snacks. (Not sure which dental treats are truly healthy? Check with your veterinarian.)
Find chew toys that promote dental health by helping to reduce or delay tartar build-up.
Most importantly, ask your veterinarian about an annual dental cleaning and exam for a lifetime of healthy teeth and gums!
Caution: These news items, written by LifeLearn Inc., are licensed to this practice for the personal use of our clients. Any copying, printing or further distribution is prohibited without the express written permission of LifeLearn Inc. Please note that the news information presented here is NOT a substitute for a proper consultation and/or clinical examination of your pet by our clinic veterinarian.